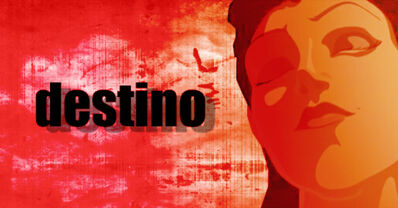 Destino (
f'ormerly 'ZincHeart, now SaudaTheAlienWazHere
) is a beautiful demi-god whose presence makes many people want her for wicked purposes. She is the daughter of the Moroccan goddess Qandisa, of lust and desire. She is a descendant of the Goddess Ishtar, but not much is known of Destino's heritage otherwise.
Destino's heritage gives her unique power over the desires of men, and in some cases, women. She cannot help herself but be wanted by people with shere lust in their hearts. As a result, she was traded into servitude as a young girl.
Destino lived with a master for some years named Claude Frollo, who one day traded her off to the influential demi-god Sabor. Sabor's plans to have her drafted were interrupted, however, with an intervention by his enemy Tulio, who saw Destino in distress and set her free while Sabor wasn't looking. Destino escaped the war grounds and went to seek shelter somewhere far away.
Sometime after, she met and formed a close companionship with the demon Thrax (Joseph). She now travels alongside him as he wreaks chaos in the shadows. As Thrax is exceedingly powerful, Destino feels secure and will not leave his side.
The War & Personality
Edit
Destino cannot help her power, nor does she particularly understand much about it. Her heritage and the role of a demi-god is all a blur to her; she is a shy, peaceful girl who does not ask for much out of the world, but seems to run into multiple instances of bad luck. She rarely talks, and her femininity, she believes, prevents her from defending herself.
Destino is a pacifist, so the war, especially after almost being thrown into it, does not appeal to her in any way. She chooses to hide, seeking the safety of Thrax's strong arms to protect her.